Liberal Classical Fine Art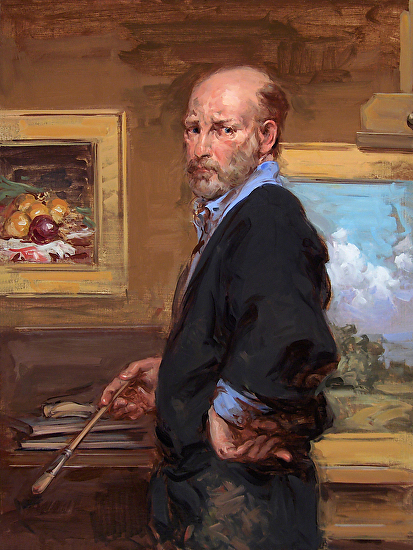 In the Studio
40 x 30 Oil on Linen


from my blog Dammi I Colori, February 5, 2011
Most artists use light and color and design to express what they want to say about the objects in their paintings, I do just the opposite in my work. I use subject matter, apples, flowers, trees, mountains, portraits and nudes to explore the possibilities of light and space and poetry. Most artists begin their paintings by drawing the subject on the canvas, then lighting it and finally giving it space and dimension. I start my paintings by envisioning the space in the painting, then letting light enter that space and fall on the subject, and finally bring that subject to the canvas. Most artists construct the subject on the canvas, building to the completion of the painting. I prefer to let my subject emerge from the canvas until it is fully formed. Most artists refine the details in the final phase of painting, I subdue the details so that they do not destroy the unity of my painting. I am the opposite of every artist you've ever known.....
Visit my blog Dammi I Colori
Information about the Torak Landscape Class
My remarks at Frank Mason's memorial service

All images copyrighted by the artist.
Images may not be used without permission.